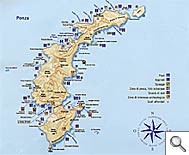 After a quick flight back to Rome, we drive an hour south to Anzio, one of four towns where ferries leave for Ponza, eponym of the Pontines and the archipelago's main destination. Compared to the bustling ferry docks in Naples that service Capri, Anzio's is tiny and refined, attended to by valets in orange shirts. The seven Pontine Islands were a regular stomping ground for Roman emperors beginning with Augustus.
These days, they are a haven for sailors, like our Italian friend Marsillio, who calls the area the most beautiful place he has ever visited. En route to Ponza on the 70-minute ferry ride, we spot Zannone, once a private hunting forest and now a plant and wildlife refuge; Ventotene, with its old Roman port, Neapolitan-style town, and ruined imperial villa; and Santo Stefano, dominated by the crumbling remains of an 18th-century prison designed like the circles of Dante's Inferno. 

Finally, we reach Ponza, a volcanic island shaped like a lizard and made up of sheer cliffs, craggy coastal nooks, grottoes, and ancient ruins. We disembark in the 18th-century Bourbon port, where a sun-bleached amphitheater of colorful houses looks down on the busy stage of the harbor, which is connected by stairs and passages to the cobblestoned pedestrian high street. As we make our way slowly through the friendly chaos of people, scooters, and cars, I can't help but wonder how Ponza has remained unknown to foreigners. 
One of the first ladies of Italian fashion, Anna Fendi, who has been coming to Ponza for three decades, explains: "The people here don't want outsiders unless they live the island style of life. They hate rich people with yachts. They don't want to change for them. What they offer is enough. It's the only place in the last thirty years that has stayed the same." 
Indeed, this low-key weekend retreat has a delicious simplicity that's been honed over centuries. And fortunately, the advantages of its resistance to change outweigh the drawbacks—some of which were on immediate display when we checked into the Grand Hotel Santa Domitilla, supposedly the best hotel on the island. Our room might be charitably described as adequate, and no one behind the front desk speaks English, even though the property has an elaborate English-language Web site. 
In fact, English is so rare on Ponza that two local taxi drivers are famous for speaking it. One, Dominick, actually speaks it well; he grew up in the Bronx. The other, Joe the American, is apparently so called because, as his business cards boast, he "speaks perficty English." Part of the island's allure is how near it is to the familiar, and yet how perficty remote. 
Yet some change is in the air even here. Fendi and partner recently opened La Limonaia a Mare, a luscious B&B set in an old yellow house perched on the rocks. With its broad terrace, roof garden overlooking the port, and five simply decorated rooms, it is restrained enough to seem as if it belongs here, yet stylish enough to appeal to the international jet set.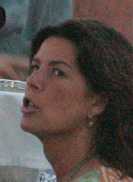 The restaurants above the port are the only part of Ponza that feel generic: they could be on any island. Acqua Pazza, with tables on a tree-lined piazza, is the best spot in town, with a world-class wine list that has made it beloved by notable visitors like Princess Caroline of Monaco. Oréstorante, tucked into a hillside behind the town's church, has extraordinary views and is a local favorite. 
The refreshing lack of pretension that marks Ponza always triumphs. The owner of the restaurant L'Aragosta, next door to Acqua Pazza, once famously turned away the late Fiat mogul Gianni Agnelli when he arrived from his yacht with a party of 12 people but no reservation. 
"Don't you know who that is?" the proprietor was asked. 
"I don't care about sheep," he replied, confusing Agnelli's last name with agnello, Italian for "lamb." "I have no tables." Who needs celebrities when your island is the star of the show? 
Here, as on Lampedusa, our own focus is on the sea. There are two beaches right near town: Chiaia di Luna, which can be reached via a 656-foot Roman tunnel running through a mountain, and Frontone, with a bar and restaurant, minutes away by water or land taxi. But there are myriad beaches around the island, and visitors from across Italy zip in and out of them in all kinds of conveyances: grand sailboats, catamarans, cabin cruisers, wooden gozzos, large excursion craft, rubber dinghies, kayaks. 
We head out on the water in a motorboat. Circling the island, we marvel as the coast unreels like a movie, each cove a fresh revelation, another invitation to anchor and dive in. Just out of the port are grottoes, and the slightly creepy caves where legend has it Pontius Pilate farmed moray eels. Beyond, the sea is pierced by faraglioni, rocks as sharp as sharks' teeth. As we swing around Faro della Guardia, the island's southernmost point, Monte Guardia, its highest peak, looms above, then gives way to terraced slopes, where grapes for the local wine, vino del Fieno, are grown. 
Next stop is the beach at Chiaia di Luna, dominated by cliffs that glow like the moon. Just beyond, at Capo Bianco, the light plays more tricks, sun and wind changing the color of the cliffs from gray to yellow to green. A bit farther on are the Faraglioni di Lucia Rosa, named for a legendary beauty who sometime in the misty past flung herself to her death there after she was forbidden to marry. We stop in the busy bay of Cala Feola, where children play in shallow natural pools, and have lunch at a restaurant with two names: Gennaro e Aniello, according to some people, and Rifugio di Cala Feola, if you believe what's written on the menus. With tables on a terrace over the water, a bar carved into the rocks, cracked-tile-shard décor, and a menu that changes daily, it is, says Silverio, who serves us, "the real Italy." 
After lunch, we still have time for a swim at Cala Fèlice, where a yellow wall of sulfur climbs up from the beach. We scrub ourselves with this natural exfoliant, then wash off in tidal pools swarming with baby shrimp. With an islet called Gavi, shaped like a baked alaska, the wonders continue, then culminate in the Grotta del Bue Marino, where your body takes on the azure shade of the water. 
The following day, we head over to Palmarola, six miles away, the nearest and second-largest of the Pontines and considered by many the most glittering jewel of the Mediterranean, studded with palms and surrounded by jagged outcroppings of volcanic rock—and by tuna and dolphin and swordfish. We circle the island for hours, dropping anchor to swim among the faraglioni, snorkel through underwater tunnels, or laze on deck beneath La Cattedrale, a rock cliff eroded over the centuries into spires that resemble Milan's Gothic duomo. Palmarola is a day trip: the only accommodations are on the bay of Il Porto, which has a beach with a couple of rudimentary restaurants and a sort of Hotel Flintstone, troglodyte caves for rent. Palmarola appeals to backpackers who want to rough it and Italians rich enough to fly in with their own helicopters.